Skip to Content
The Gibson Inn
Mixing Old Florida Spirit with


Modern Southern Style

Enjoy a piece of classic Old Florida at the Gibson Inn, Apalachicola's crown jewel. Constructed in 1907 and listed on the National Register of Historic Places, our hotel is steeped in Southern hospitality, history, and charm. Our iconic Parlor Bar remains the definitive local watering hole, serving craft cocktails, local beers, and a mouthwatering menu from our in-house restaurant, the Franklin Café.
Franklin Café
Parlor Bar
Billiards Room
24-hour reception
Meeting spaces
Gibson golf carts rentals
Complimentary bicycles
Bentley house car
Complimentary parking
Complimentary WiFi
Dog-friendly (select rooms, fees apply)
Our History
The Gibson Inn was built in 1907 by James Fulton Buck at the peak of Apalachicola's reign as a center for lumber and shipping. Originally named The Franklin, the hotel was constructed using native heart pine and black cypress. It soon became one of the most luxurious hotels on the Panhandle, and the only one between Jacksonville and Pensacola heated entirely by steam.
In 1923, siblings Annie Gibson Hayes and Mary Ellen "Sunshine" Gibson bought the hotel and renamed it the Gibson Inn. Folks remember the sisters as true trailblazers.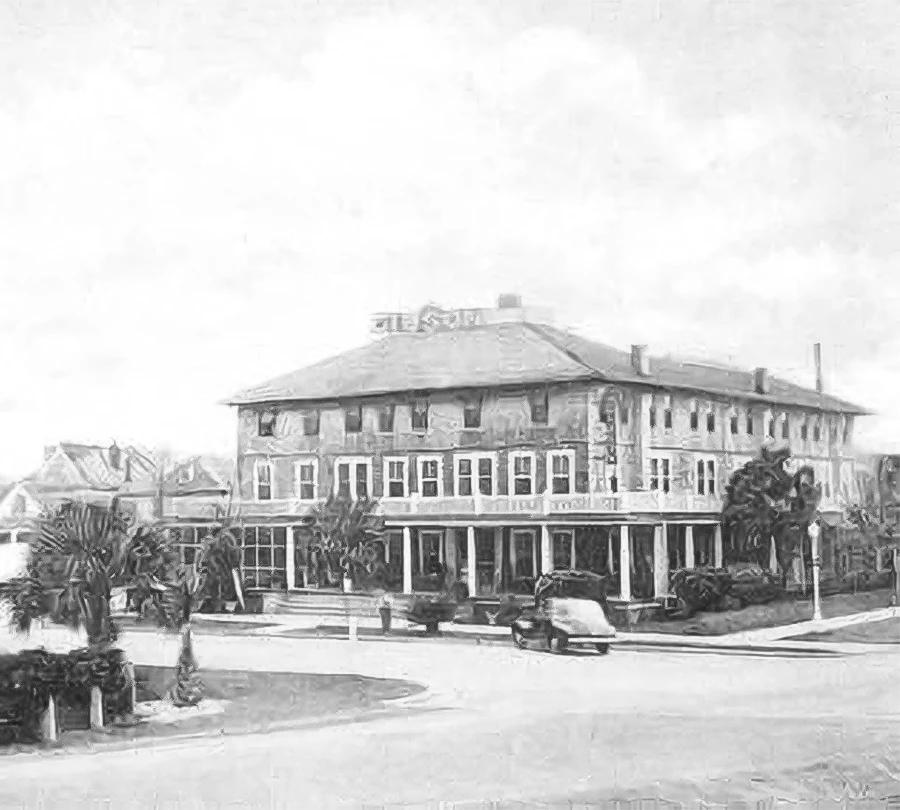 A wartime role
Nineteen years later during the height of World War II, the Gibson was taken over by the U.S. Army and used as housing for officers serving at Camp Gordon Johnston. Shortly after the war ended, the hotel fell into disrepair and changed hands many times.
In 1983, brothers Michael and Neil Koun purchased and renovated the property, restoring its original 1907 façade. After two years of renovation, the Gibson Inn reopened as a hotel and was added to the National Register of Historic Places.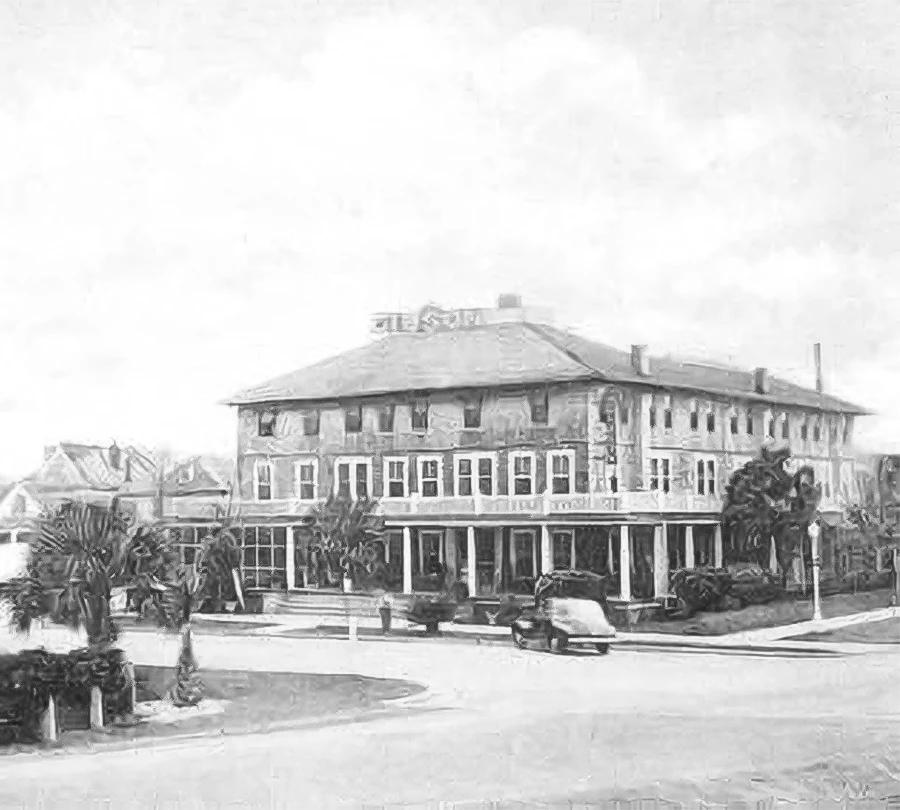 Restoring an icon
Thirty-five years later, siblings once again became an integral part in the hotel's rich history. In 2018, the Gibson was purchased by Steven Etchen, an avid historic preservationist and art collector, along with his business partner and sister, Katharine Etchen Couillard.
They are undertaking an impressive renovation and expansion that incorporates the former mansion of original hotel owner James Fulton Buck, as well as the addition of numerous amenities. Holding court in the very heart of downtown Apalachicola, the Gibson Inn retains its iconic status as the premier luxury boutique hotel in the region.
Gibson Inn Present Day
Recently dubbed "the coolest spot to stay on the Panhandle" by Southern Living magazine, here's what travel writer Tracey Minkin has to say:
"Evenings downstairs at The Gibson Inn are themselves a marvelous blend of everything that is Apalachicola—old-timers parked at the bar and longtime visitors and families settling in for dinner at the Franklin Café, all mixing with happy travelers who know they're onto something really special."
- Coastal Living editor